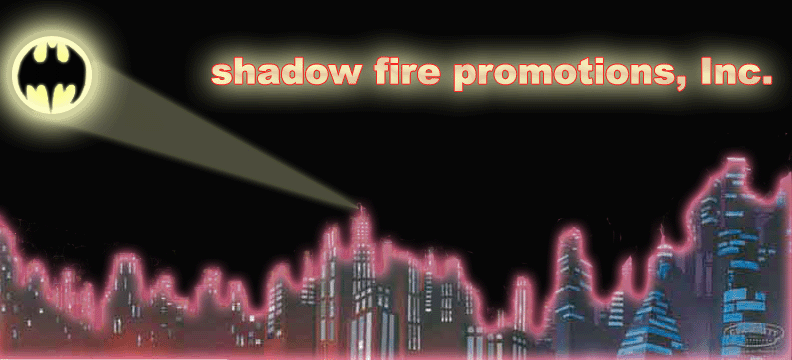 COMICS FOR SALE
On this site, we will have the comics and comic related merchandise and memorabilia in stock from Shadow Fire Promotions, Inc. We hope to have complete pictures of all issues in sets of books (when available), and a plot synopsis (also when available). A good majority of pictures used on this site are stock pictures taken from various comic sites, and are used solely for reference. If there is no readily available stock image, we will scan the individual books to use here.
Items are broken down by publisher (Marvel, DC, etc.) and then broken into titles. All titles are listed alphabetically on the site. This is a work in progress, and we're always trying to add to this by filling gaps in sets to make this more attractive to buyers, so if you don't see your favorite title here, you can join our Yahoo! Group (below), which has a lot more pictures of what we have, bookmark this site and check back alot (joining the Yahoo! Group will entitle you to announcements about what we add to the site), or just e- mail us and ask!
Wanna chat about comics? Head to our message board at http://www.sfpincchicago.com/boards and join in on the fun!
For large runs, we will attempt to generalize the condition, using the condition of the majority of comics in the run. For smaller runs or individual issues, we will be more detailed. If you are interested in more detail about any of our grades, just drop us a line (gdennis@sfpincchicago.com) and ask! We won't bite. Nibble, maybe, but not bite!
We will NOT break up sets unless there are duplicate issues within sets. For example, let's say we have issues #1-20 of Amazing Spider-Man (from 1963, natch!). We won't sell ONLY issue #13 (and not just because it's unlucky!). You would have to buy the entire run from us. While we realize that this may turn off a few customers, our ultimate goal is to sell off whatever merchandise is listed here, as quickly as possible, and to get a decent price for it. Selling individual issues might work well for you, our customers, and while we as a company strive to please our customers as much as possible, in this scenario it makes things extremely complex and counter-productive to us and what we are trying to do. We apologize for this inconvenience in advance. When we do have duplicate issues within sets, we will list them individually after the set listing. Sets will be marked as "set". Otherwise, consider any listing of multiple issues to just be grouped together for space considerations.
***PLEASE NOTE, WE ARE NOT A COMICS SHOP, SO DO NOT CONSIDER THESE "PROFESSIONAL" GRADES.***
We are fans, just like you. This is our interpretation of grades, as best we can judge them.
***AN IMPORTANT NOTE ABOUT OUR COMICS***We are fans and collectors first. While we try to keep all of our books in the best possible condition, these books have been read. If you are looking for comics as an "investment", then you should probably seek out a comics shop. If you are a fan of the great stories and art of comics, then we are the place for you. We are offering our comics at what we feel are very reasonable prices, and you can rest assured that every dime we make on our comics here will go right back into the comics industry by completing other parts of our collection we are keeping. As a result, we are more than open to trading.
We have a fairly large inventory of all publishers, so drop us a line at gdennis@sfpincchicago.com to see if we have something in stock.
For the beginning collector or the collector looking to expand his collection with new titles, we have several "grab bags" either by publisher or totally random (all publishers represented). Each grab bag is $10, and has 10 totally random comics, each mint/near mint, and having a cover price of approximately double the price. What are these grab bags? Just any comic we only have a single copy of. They could be one-shots, special editions, variations, anything that is not part of any other set we are selling. They will be taken from individual issues displayed on this site.
Prices are exclusive of shipping.
What kind of payments do we accept? Money orders (recommended), Personal checks (held 10 business days to clear, not preferred). You may send cash, but please be advised, it is not encouraged, and we are not responsible for cash lost in the mail.
In the meantime, while we work on getting everything loaded, you may check out all our listings on Ebay, Blujay, Ecrater, & Half.com! We hope to have more sites representing our existing collection shown here soon, as many of these sites have items that have not yet made it to here, but we hope to change that soon!
Interested in seeing all of what we have in stock? Looking for information on new releases that we will be putting up on auction sites? Join our Yahoo! Group, using the join box below.